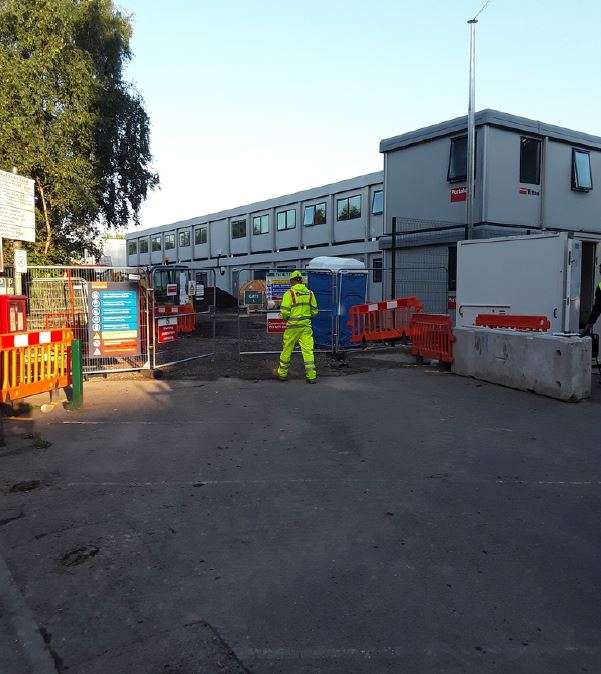 Nationwide Traffic Solutions delivered traffic management around the construction of a new school development on Scrubbs Lane, London, in September 2017.
The project to build the secondary school was approved by Parliament following the Grenfell Tower disaster in June.
The impact of the devastating fire spread to the surrounding community as the school overlooking the tower had been forced to close for safety reasons. In a positive step forward for the area a proposal to erect a temporary school building on Scrubbs Lane was given the green light by the Government.
NTS provided traffic management for the duration of the project on behalf of one of their long term customers – a modular building specialist.
The team provided all the necessary traffic management measurements required to enable the project to be completed smoothly and efficiently.
The traffic management provisions provided by NTS included:
CAD Traffic management plans
Consultancy service
Lane Closures
Special signage
Traffic marshals with radios
Barriers
Heras fencing
Acoustic barriers
Marshalls oversaw the operation from start to finish. All equipment and traffic management measures were off hired by the team once complete. Due to the nature of the works extra care was taken to make the area safe for pedestrians and motorists who regularly accessed the area. Prior to the project start date the team conducted detailed risk assessments and site surveys which is standard practice across all of their projects.
The project was completed successfully on schedule thanks to the professional conduct of NTS operatives on site, operations managers and dedicated project administration team who delivered their expert consultancy service including council permissions and the organisations of street cleaning in the area.
Operative Gavin Potts said the productivity of the team helped to get the school built and opened within 8 weeks.
"The aim was to get the work done quickly to reduce the inconvenience to residents and people in the area," he said, "We worked there while the groundworks, tarmacking, construction of the units right up to when the furniture was put in."
"We received lots of positive feedback on the work we did on this job."